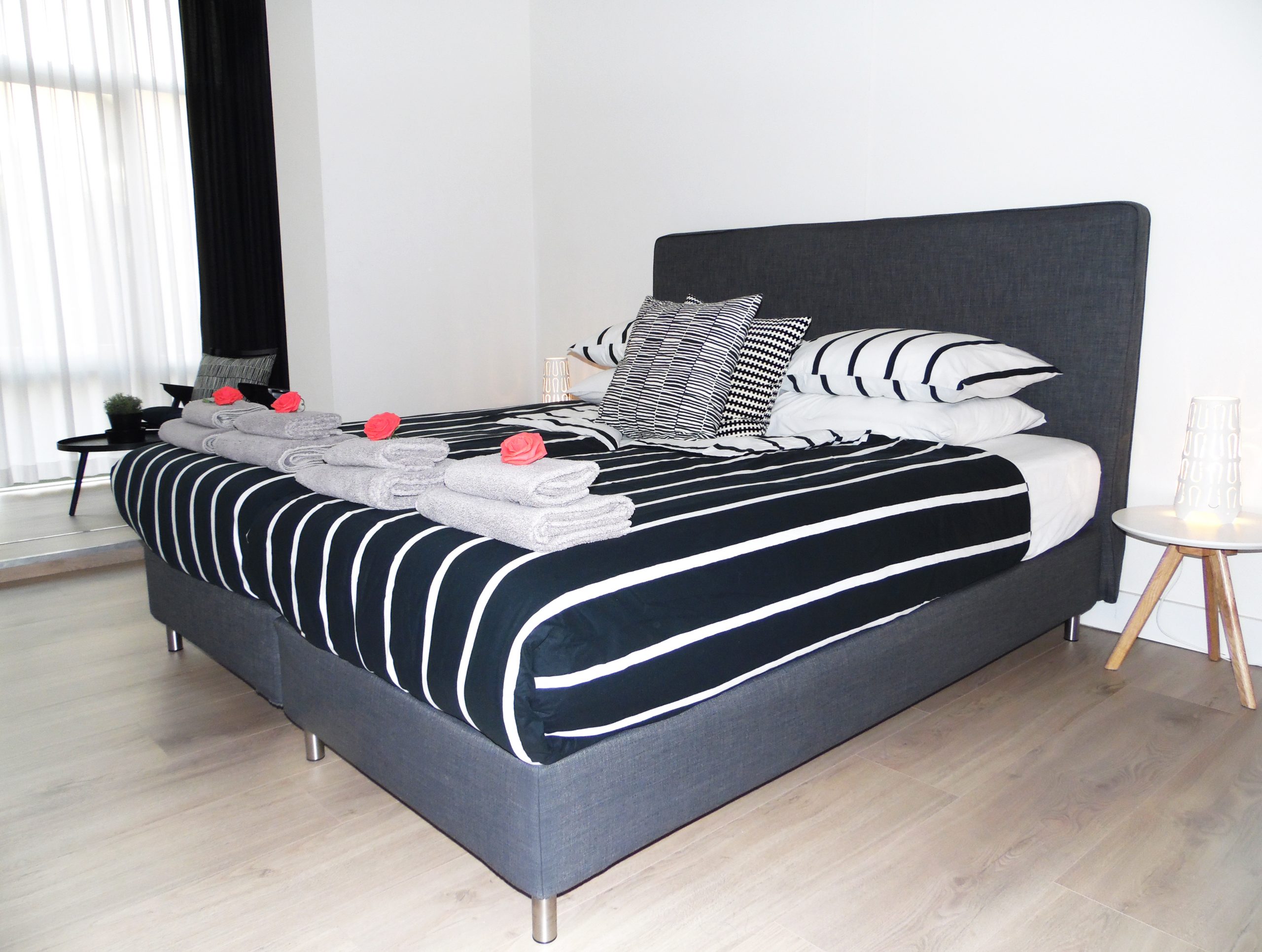 Comfortable Aparthotel in Amsterdam
Frankendael Apartments Hotel is a small scale Aparthotel, near the city centre of Amsterdam. Our accommodation offers 8 beautiful apartments in a cozy neighborhood in the east of Amsterdam. Each apartment has a beautiful view on the Frankendael Park. At the rear side, you have a view of a lovely typical Amsterdam courtyard. Do you feel like staying in? Prepare a lovely dinner in our fully equipped kitchen, for instance. Followed by a cozy night in, searching the web or watching TV with a late night snack. The nearest supermarket is just 75 meters down the street and is open 7 days a week from 8 AM – 10 PM. Or do you feel like going out? There is a wide variety of shops, restaurants and cafés nearby.
Our Aparthotel is situated in a residential area in Amsterdam. We want to offer all of our guests, as well as our neighbors, the best night's rest. Therefore, parties and/or events, smoking weed, or the use of other drugs are not allowed in and around the building. Quiet hours are between 22:00 and 08:00 hours (in- and outside). After a good night's rest, you can enjoy your coffee from the Nespresso coffee machine, to peacefully get ready for another day to explore Amsterdam. 
Our Economy Apartments are lovely apartments with spacious living rooms and a beautiful view on the Frankendael Park in Amsterdam. With their fully equipped kitchens and their comfortable bed- and bathrooms, these apartments offer you a very pleasant stay. They also give you the opportunity to enjoy the peaceful courtyard on your very own private 9,5 m2 balcony.
The two economy apartments are situated on the upper floors and are only accessible via steep stairs.
Our pleasant One Bedroom Apartments offer a beautiful morning view on the park in the comfortable and spacious bedrooms. The living rooms have a pretty courtyard view, where you can enjoy your breakfast on your private 12 m2 terrace. These apartments have airconditioning in every room and offer everything for a pleasant stay.
Our One Bedroom Apartments are both situated on the second floor and only accessible via steep stairs.
Comfort One-Bedroom Apartment
The access to our beautiful Comfort One-Bedroom Apartment is just 10 steps up. This pretty and fully airconditioned apartment offers a living room with a beautiful view on the Frankendael Park. It has a comfortable bedroom, a luxury spacious bathroom, and a separate toilet. Enjoy the open space living-room with a fully equipped kitchen, or the very large 17 m2 roof terrace where you can enjoy your breakfast in the Dutch sun.
The largest apartment in our aparthotel in Amsterdam is perfect for families! The apartment has two double bedrooms – which are separated by sliding doors – and a sofa bed in the living-room. Therefore, this family friendly apartment is suited for up to 6 people. It offers a spacious bathroom, a separate, fully equipped, kitchen, a laundry machine, and a very spacious living room with a beautiful view on the Frankendael Park in Amsterdam. The apartment has a small French balcony at the front side.
The Two-Bedroom Apartment is situated on the first floor and only accessible via steep stairs.
Are you looking for apartments in Amsterdam without having to climb the typical Amsterdam steep stairs? This apartment is ground floor! It has a spacious living room with a fully equipped kitchen. It has a comfortable bed- and a bathroom with a separate toilet. There is a study with access to the garden. Therefore, you can enjoy the peace of the neighborhood in the morning sun.
This apartment's name speaks for itself. Firstly, it offers all comfort and space and a state of the art kitchen. Secondly, a comfortable bedroom, a huge and beautiful bathroom and a separate toilet. And last but not least; you'll have your very own laundry machine and dryer. There is a small French balcony and a nice conservatory to peacefully start your day. This family friendly apartment is perfect if you want to spoil you and your family, but you'd better be quick; our aparthotel in Amsterdam only has one DeLuxe Apartment to offer!
This apartment is situated on the first floor and only accessible via a modern staircase.
"This apartment was perfect. The residential neighborhood is close to grocery, ICE CREAM, the tram and restaurants. The apartment was well appointed and had a nice table for enjoying breakfast before heading out for the day. Chris, the host, and great at communicating before we got there and very helpful on check-in. Overall a wonderful experience."
"Spacious apartment with plenty of room and overlooking a lovely park .. hosts even provided us with a free bottle of prosecco which was a nice gesture ... plenty of shops nearby including a supermarket and the tram stop to get into the city centre was a couple of minutes walk away and took only about 15 mins."
"We stayed in Amsterdam for three days. The appartement was very confortable, well located to hoot the center. It was very clean and the person in charge was very kind and helpful with us. I highly recommend this place! Thanks you for everything"